---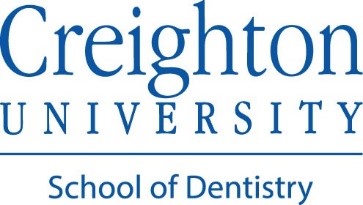 Chair the Department of General Dentistry
School of Dentistry
Creighton University
Creighton University invites qualified applications for the position of Chair the Department of General Dentistry who will provide vision, leadership, direction, and management of the didactic, pre-clinical and clinical instruction in coordination with the other departments and the School's pre-doctoral curriculum. This position involves engaging the faculty of the department in teaching, scholarly activity, professional development, and service activities in alignment with the mission and purpose of the department, School and University. The position will need to work well in a collegial environment with other department chairs and leadership of the School to assure that the department is integrated within the School and the University and fosters the continued growth of the school's team practice model and advances the efficient delivery of the department's curriculum. This tenure-track position includes the opportunity for advancement through rank and tenure processes of the University. DDS/DMD degree or equivalent is required along with eligibility for dental licensure in Nebraska. Preferred qualifications include certificate, Master's or PhD degree in operative or material sciences, or advanced degrees appropriate for academia and the needs of the position.
If interested, please apply via this link: http://k.rfer.us/CREIGHTONhrP1TB
Posted 21Oct21 Remove 20 Dec 21
---

The Faculty of Dentistry, University of Toronto, invites applications for a full-time tenure stream position in Restorative Dentistry. The appointment will be at the rank of Assistant Professor and will begin on July 1, 2022, or shortly thereafter.
Applicants must have a DDS/DMD/BDS degree and a PhD in restorative dentistry or related field, at the time of appointment, as well as a demonstrated record of excellence in research and teaching. The successful candidate must be eligible for or currently hold either a general or academic certificate of registration with the Royal College of Dental Surgeons of Ontario, and must have at least one year of clinical practice experience. The Faculty of Dentistry, University of Toronto is seeking research excellence in restorative dentistry or a related field, and the successful candidate will participate in teaching at the undergraduate and graduate levels. We seek candidates whose research and teaching interests complement and enhance our existing Faculty research strengths. The successful candidate will be expected to pursue innovative and independent research at the highest international level and to establish an outstanding, competitive, and externally funded research program.
Candidates should currently be engaged in active research with evidence of grant-supported research and publication of research activity. Evidence of excellence in research is required, as demonstrated by the publication of papers in top-tier field relevant academic journals, presentations at significant conferences in the field, awards and accolades, and strong endorsements by referees.

Teaching excellence is required as evidenced by the teaching dossier including a strong teaching statement, sample syllabi, course materials and teaching evaluations, and strong letters of reference, as well as the demonstrated ability to teach at the undergraduate and/or graduate program level as evidenced in the materials submitted for review as part of the application.
Salary will be commensurate with qualifications and experience.

All qualified candidates are invited to apply by clicking on the link here. Applications must include a cover letter, detailed curriculum vitae, research dossier (to include a research statement, impact, and other significant contributions), a sample(s) of recent scholarly work (article or book chapter), and a teaching dossier (to include a teaching statement, sample syllabi, course materials, and teaching evaluations).
Applicants must provide the name and contact information of three references. The University of Toronto's recruiting tool will automatically solicit and collect letters of reference from each after an application is submitted (this happens overnight). Applicants remain responsible for ensuring that references submit letters (on letterhead, dated and signed) by the closing date.
All application materials, including reference letters, must be received by February 15, 2022.
If you have questions about this position, please contact the Dean's Office, Faculty of Dentistry at dean@dentistry.utoronto.ca.

For more information on the Faculty of Dentistry, please visit our website at www.dentistry.utoronto.ca.
Posted 22 Nov 21 Remove 21 Jan 22
Please click here for information about submitting a Faculty Position Post with Operative Dentistry, Inc.